Students were fanatic during the final of the Sales Week today. In Kinepolis Jaarbeurs Utrecht, the students pitched and debated at the cutting edge. The bar was set high and the jury was impressed! Amber Borchert (best pitcher), Eveline Daeter (best seller) and Puck van de Poll (best debater) finally went home with the first prize.
Final piece of the Sales Week
The exciting finale today was the final part of the Sales Week. The pitching, debating and sales finalists from all five Tio campuses joined forces and each showed a fine example of sales. How did they do that? The pitch finalists were given one minute to convince the jury with a tight pitch, the debate finalists competed against each other in a joint (lower house) debate and the sales finalists competed behind closed doors, during flashy sales talks, for the win.
Learn to pitch like a pro
To achieve this level, students of the Commerce Entrepreneurship & Organisations and International Business Management programmes worked hard during this project week. All facets of the sales profession passed during inspiring and practical training sessions.
"The pitching, debating and sales training sessions that we did this week were fun," says pitch finalist Romanie (Commerce Entrepreneurship & Organisations, Tio Amsterdam).
"The training courses fit well with our study and we have really learned in recent days to translate the theory into practice. I found it very instructive."
Students Nina and Lotte (Amsterdam) have also learned a lot from the training courses, they say. "It was very informative that you could put everything into practice immediately."
Jury impressed
The jury, consisting of professionals from the field, was impressed by the level of the students. About the sales section of the final: "It was really a close call, we saw so much talent! Great to see what the students can achieve and how much they can learn if they spend a full week on sales. "
And the winners are...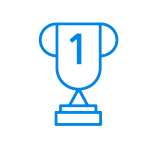 Despite the high level, there could only be one winner in each section. Amber Borchert (Business student, Amsterdam) became the best pitcher, Puck van de Poll (Business student, Rotterdam) turned out to be the best debater and Eveline Daeter (Business student, Rotterdam) went home as the best seller.

"So cool that I won!" says winner Eveline afterwards. "Sales is really my thing, but the level of the other finalists was very high. I therefore did not expect that I would win. I learned a lot this Sales Week. I thought it was very special; I really got the best out of myself!"
More about over: