The Dutch school system consists of a variety of levels: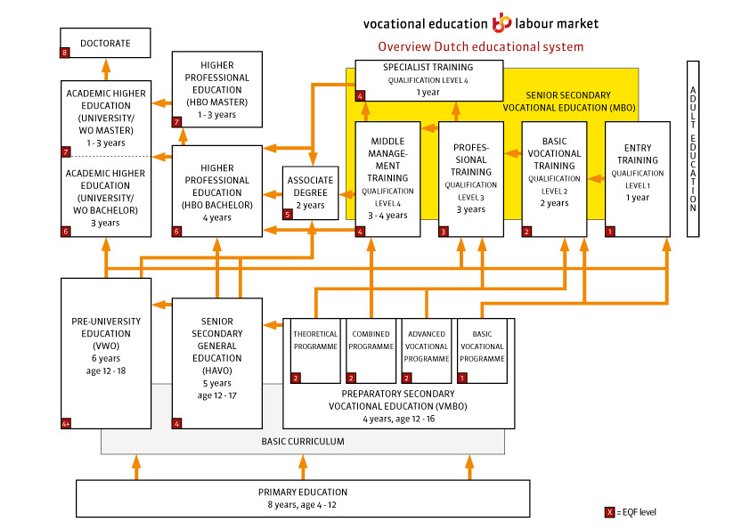 All students follow the same path from age 4 till 12 years old. This is called 'primary education'. After these years they will continue their education by going to high school ('secondary education'). There are several levels in high school: vmbo, mavo, havo and vwo. Students who complete the vmbo programme can transfer to mbo (secondary vocational education), students who complete havo can go to hbo (university of applied sciences), vwo students can go directly to university).
Certified training company
Tio offers programmes at hbo (higher education; university of applied sciences) and mbo (secondary vocational education; middle management training qualification level 4) level. All students have to complete two internships. An operational internship in the first academic year and an internship focused on management skills in the second academic year. The internship for mbo students is a more practical one, with 'learning on the job' as the main goal. For this reason, there are requirements to offering internships. For instance the acknowledgement from the organisation Vocational Education and Labour Market (SBB). If you would like to apply for this certification, you can do so at s-bb.nl/en/companies. Each programme has its own acknowledgement and it will state that your organisation is a safe environment to learn, that there will be a coach available who can guide the student at the appropriate level and that the student can work on their assignments.
The different certifications for mbo are:
Hotel Management: Hospitality manager/entrepreneur (25184) (Level 4)
Commercial Business Management: Junior account manager (25132) (Level 4)