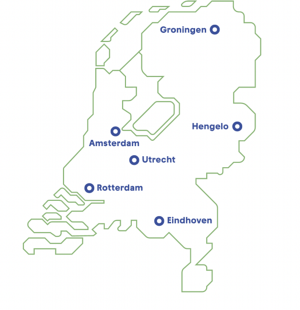 Tio has six campuses spread across the Netherlands and a head office in Utrecht. Students can benefit from both the small-scale nature and personal approach of each of the campuses and from the effectiveness and the network of a national organisation.
Tio University for Applied Sciences has campuses in:
Easily accessible

The five Tio campuses are found in excellent locations in Amsterdam, Eindhoven, Hengelo, Rotterdam and Utrecht. No matter which city you choose to study in, you can reach the Tio campus on foot from the train station in no more than ten minutes.

Distinctive style

The various study courses are the same across all Tio campuses. This makes it easier to move to a different campus during your studies. Furthermore, all Tio campuses use the same distinctive style, which ensures you will feel right at home wherever you are.

Quality assurance

Its national organisation allows Tio to focus on the quality and innovation of its education. A team of education experts is hard at work every day to safeguard the quality of Tio's education and to develop appealing and up-to-date study programmes. Our in-house software specialists ensure that our systems are up to date and perform optimally.

Tio's bachelor's degrees have recently been accredited by the Dutch-Flemish Accreditation Organisation (NVAO) in accordance with the latest standards. Tio's vocational training courses have been certified by the Education Inspectorate in light of the Act on Education and Vocational Training.
Network

Owing to its national renown, Tio boasts a large network of internship and graduation organisations. Furthermore, Tio works closely together with renowned businesses in the industry. This ensures Tio's education ties in seamlessly with the latest trends and developments in professional practice. 

Departments

A course is generally taught, developed and kept up to date by five or more course specialists. This results in a better reflection of the real world and current affairs than if all these tasks were in the hands of a single lecturer. 
Extensive network
Tio has an extensive network, partly thanks to its national reputation and the many lecturers from the field. And you will reap the benefits of that, during and after your studies.
Internship and career opportunities
Tio has many contacts with (internship) companies throughout the country and internationally, and is happy to help you with your search for an internship. Thousands of students preceded you, so you can choose from a large number of internship addresses. Moreover, at Tio you get direct access to the Tio network during the annual Career Event: the ideal place to network and to orientate yourself on the internship and labor market. With more than 150 renowned companies that are looking for interns and employees, the choice is enormous. Found an internship? Then you are already building your (international) network and thus your career!
Learn from the experts
Tio's lecturers are professionals who work in the field. They have a large network that they are willing to share with you. You also regularly receive masterclasses and guest lectures from top entrepreneurs and industry experts at Tio.
Projects for top companies
Visiting a company like Google or Bol.com, helping G-star with e-commerce, advising ANWB Reizen or a cooking masterclass at star restaurant De Librije? Thanks to Tio's contacts, you can build up your own network at leading companies in your industry during company visits, projects and study trips.
International possibilities
Do you have international ambitions? Then Tio is the right place for you. Tio has excellent contacts with partner universities worldwide and has a large international network of internship companies. Internships, minors and (after your studies) even masters at top universities are among the international options.